WARNING If you have not watched the film Eric Khoo's Be With Me, there are major spoilers in this post. It's really quite a decent - ok, good - film, so go watch then come back here and tell me what you think yah?
The inadequacy of words to express what we feel or mean is not an uncommon theme in cinema or theatre. We have often accused words of betraying, hurting (even if inadvertantly), distracting, misleading.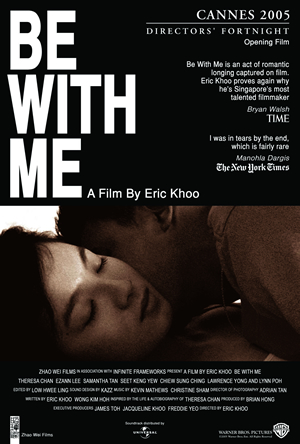 Those blessed with the capacity for speech do poorly in Eric Khoo's latest film
Be with me
. In 2 of the 3 inter-linked stories that make up this film, the spoken word cannot bring people together. There's probably only 1 page worth of spoken script, but when these characters do speak, they mostly use their lips to insult or curse. A lonely and abused security guard plans to confess his crush on a woman (a stranger he follows) through a letter instead, though the letter is never read. 2 teenage girls who fall in and out of love meet and bear their hearts to each other through the internet chatroom, and eventually conduct their breakup through SMSes. A broken heart is a deleted, unrequited SMS. So not only the spoken word, but the typewritten and handwritten words of love are fruitless.
As such, when people in this film truly love, they do so mostly without words.
In the 3rd story, the old shopkeeper who brings food to his bedridden wife in the hospital, silently sits by her bed, and wordlessly they hold their hands and faces to each other in a final farewell. Silently he mourns her death - but it is not a stoicism. Because silently, he also continues to yearn into her being into his presence - while stoicism perhaps knows no yearning. The shopkeeper's son, a social worker, cannot penetrate his father's grief (the old man responds with only 1 word at dinner, "eat!") with words. When the social worker rushes to the hospital to be with a teenage girl who has just attempted suicide because of a broken heart, their eyes meet and he smiles a wordless comfort.
Some silent loving
However, all this silent loving finds an unexpected counterpoint in the film's inspiration and central figure, Theresa Chan.
61 year-old Theresa Chan is not silent, even as she loves. She speaks. And her speech brings to your ears not only the shape, but the solidity of each word. Unexpected because Theresa Chan became deaf at the age of 14 and blind soon after. She nonetheless learnt to speak and write her second language English after
war heroine Elizabeth Choy
met and brought her to school. Later, she attends the
Perkins Institute
in the US; travels the world; falls in love and loses her only love to nose cancer - on Christmas; prays; teaches craft to visually impaired children; goes grocery shopping; takes a swim; cooks meals; sweeps the floor; and speaks those shapely words.
"When God took away my hearing and my sight, he put a wall between me and living."
Yet she goes on to traverse this wall daily.
In fact, everything else about living that God has given and not taken away from her (speech, taste and touch - and words) become the means for redeeming both life and love in this film. It is her typewritten autobiography (versus the desperate SMSes and wishful love letters of the other 2 stories) that comforts and brings hope to the shopkeeper. Her appreciative tasting of the shopkeeper's homecooked meals (versus the security guard's daily feasting to stem his frustrated desires) draws the shopkeeper out from his grief. And in the film's final scene, she embraces the weeping shopkeeper (versus the schoolgirls/boy's weighted, fickle making-out) who finally accepts the death of his spouse.
It is amazing, with so much of living and loving in this 3rd story, why Eric Khoo had even bothered with the 1st 2 stories? But I shall not quarrel with this and begrudge Eric Khoo, his crew and cast this
Bravo
!
-----------------
p/s The film opened at both
Lido
and
Orchard Cineleisure
this Thursday. The film is distributed by Warner Brothers.